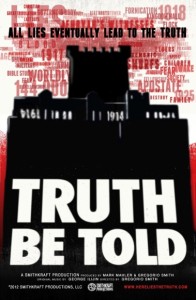 I am very excited about the potential for Gregorio Smith's compelling, fast-moving documentary, "Truth Be Told." I am sure that if it is seen by enough people, it will alter public opinion about Jehovah's Witnesses and the Watchtower Society.
Why? Because this film accurately captures the culture of undue influence from an organization that clearly violates the basic human rights of its members, their families, and especially the children of members.
In this documentary, former Jehovah's Witnesses candidly talk about the emotional and psychological harm they suffered because of the policies and practices of the Watchtower Society.
The film includes heart-wrenching recollections and personal experiences about the long-term effects upon children who are forced to proselytize door-to-door. The psychological damage that results from enforced shunning of non-believing family members and friends. What happens when critical thinking skills are suspended? The lost opportunities because of the negative stigma attached to higher education; and how it feels to be unable to pursue one's passion for art, music or science, or a young adult's shattered dream to be a doctor, educator, librarian, journalist, writer or other professional career dreams.

Continue reading this article…